[FN086]

Advanced SystemCare Professional 7.3.0.456
====================================================
No CRC ERRORS

[RAR - 43.76MB + 10% recovery.]
====================================================
WORKING & TESTED on Windows 8.1, Windows Se7en, Windows XP

.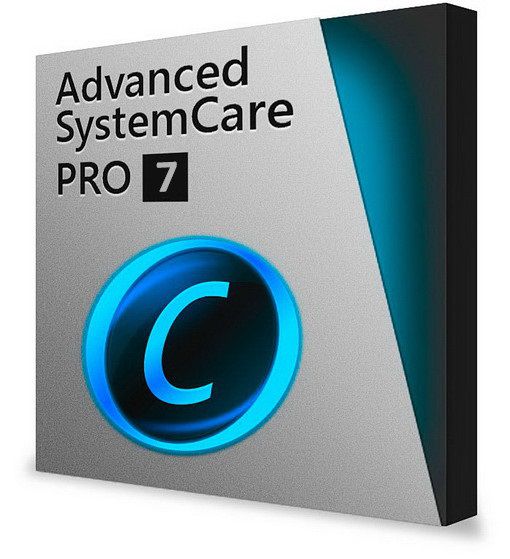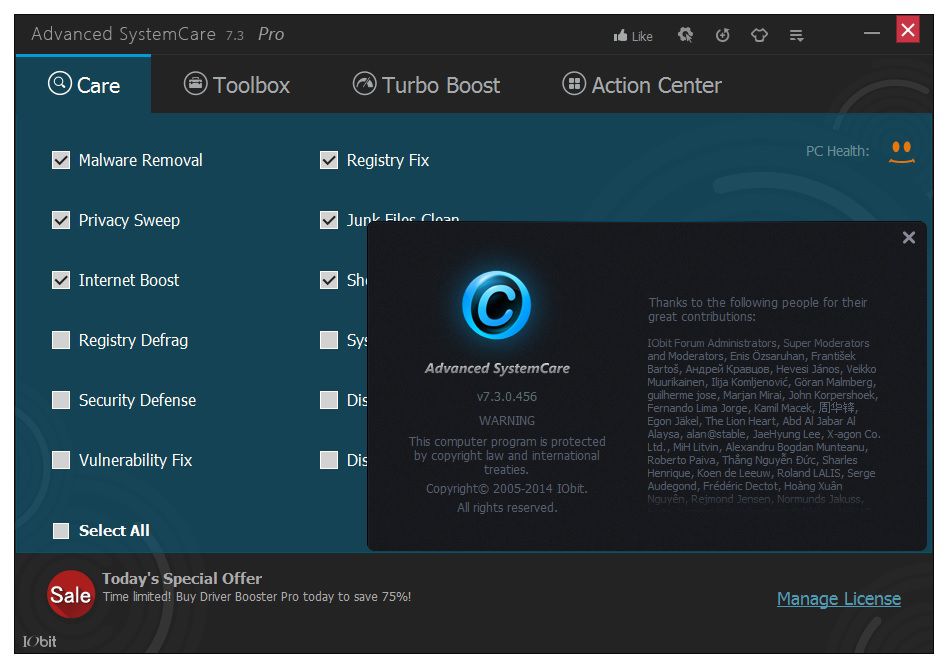 Advanced SystemCare Professional
is a software suite that contains essential components for increasing computer performance, protecting private information, and blocking spyware.
The user interface is very attractive and simple to follow. When you initiate the software, you will be able to immediately select the skin and preferred language.
The '
Quick Care
' module is able to clean, repair and optimize the computer. It scans for malware and other security threats, for invalid or incorrect registry entries and shortcuts, for activity history and surfing traces, as well as for unnecessary files that clutter your disk. By default, all these options are selected, but you can manually disable each one before scanning.
'
Deep Care
' performs a complete scan on your computer for malware removal, deep registry fixing, registry defragmentation, system and startup optimization, shortcut repairing, privacy sweeping as well as cleaning junk files, not to mention security defense, disk scan, vulnerability fix, and disk defrag.
The check is done pretty fast, and once it finishes, you can view details for each problem (including its priority), and set preferred action (no action, repair, ignore).
The '
Toolbox
' offers solutions for cleaning (uninstaller, disk cleaner, file shredder), optimizing (Smart RAM, startup manager, Smart Defrag, game booster), repairing (undelete, shortcut fixer, disk doctor, Win fix, IE helper), security (system explorer, security holes scanner, process manager, driver manager, malware detector which needs to be separately installed) and control (auto shutdown, disk explorer, system information, empty folder scanner, system control).
Finally, the '
Turbo Boost
' module helps you optimize and speed up the computer by following some simple steps - select boost mode (work or game mode), as well as disable unnecessary system services, non-Windows services, unnecessary background applications, and the window theme.
Additionally, the 'Rescue Center' will allow you to create a system restore point, and turn everything back to Windows defaults.
All in all, Advanced SystemCare Professional works very well, and it uses minimum memory resources. It definitely has powerful features you need to maintain and protect your system.
Here are some key features of "
Advanced SystemCare PRO
":
Enjoy That New PC Feeling Again:
• Whatever version of Windows you're running, enjoy that "good as new" speed usually only experienced on a brand new PC.
Automated Working in the Background:
• Just install it and forget it. This powerful utility works continuously, automatically and quietly in the background on your PC. You can set it as your schedule or just let it work automatically when your PC is idle.
Keeps Your PC Running at Peak Performance:
• Fully optimizes Windows for ultimate system performance and top Internet speed by unleashing the built-in power of your system, based on how you use your PC and your network configuration. Turns your PC into a business PC, a productive workstation, an entertainment center, a game machine, or a scientific computing PC.
Quick and Extensive System Clean-up:
• Boosts your system's performance by cleaning missing files, destroying unwanted files, deleting obsolete files, and removing junk files. Supports clean-up of over 50 different types of junk files.
Next-generation Registry Deep Clean and Optimization:
• Safely cleans registry junk, compacts registry bloats and defragments the whole registry for maximum performance. Finds and fixes the registry errors that other utilities miss with "Deep Scan" technology.
Ultimate Speeding Up with Turbo Boost:
• Turbo Boost can speed up your PC by shutting down unnecessary background processes, cleaning RAM, and intensifying processor performance.
Powerful Hard Drive Defragmentation:
• Fast, powerfully and incredibly effective Disk Defrag function to defragment hard drives - up to 10 times faster than other defragmentation tools.
Defends PC Security with Extra Protection:
• Detects and analyzes Windows security environment. Scans and removes spyware and adware using up-to-date definition files. Prevents spyware, hackers and hijackers from installing malicious programs on your computer. Erases and updates your PC's activity histories.
Fixes Multiple System Errors:
• Keeps your PC stable and running at peak efficiency. Continuously repairs system configurations by eliminating system bottlenecks and preventing crashes.
WHAT'S NEW IN VERSION 7.3.0:
+ Security Reinforce - Added this brand-new feature to reinforce the security of system weakness to avoid hacker's invading, especially for Windows XP.
+ Support Windows XP Permanently - Advanced SystemCare will continue support Windows XP to ensure Windows XP's security and performance.
+ PCtransfer - Added PCtransfer in Toolbox, the best free and portable data transfer assistant.
+ IObit Uninstaller - Updated to IObit Uninstaller 3.2, which supports the detection of apps installed from Chrome Web Store and accelerates Powerful Scan.
+ Vulnerability Fix - Supported the update of Windows XP's already known security holes to maximally ensure Windows XP's security.
+ Homepage Protection - Strengthened the protection feature and made the UI more user friendly.
+ Latest Browsers - Homepage Protection, Surfing Protection & Internet Booster support Firefox 28, Chrome 34.
+ Privacy Sweep - Added support for Chrome 34, Firefox 28,Opera 20, KMplayer 3.8, Auslogics Disk Defrag 4.5, Malwarebytes Anti-Malware 2.0, ZoneAlarm Free 13.0, Firefox 28.0, Adobe Air 13.0, Flash Player 13.0.
+ Expanded Database - Updated and enhanced database for Malware Removal and Surfing Protection.
+ Latest Languages - Updated multiple languages to the latest.
+ User Interface - Minor UI improvements.
+ Minor Improvements - Fixed general bugs and bugs reported by users.
!~!~!~!~!~!~!~!~!~!~!~!~!~!~!~!~!~!~!~!~!~!~!~!~!~!~!~!~!
Developer: IObit
Size / OS: 34.5 MB / Windows 2K-XP-Vista-7-8 / XP-Vista-7-8 64 bit
!~!~!~!~!~!~!~!~!~!~!~!~!~!~!~!~!~!~!~!~!~!~!~!~!~!~!~!~!
Advanced.SystemCare.Professional.v7.3.0.456.Incl.Crack-DLL
OTHERs
Kód: Vybrat vše

https://www.oboom.com/HD6KTNBZ/FN086_AScarepro730456.rar
http://uploaded.net/file/7zpli3ze/FN086_AScarepro730456.rar
http://rapidgator.net/file/d96bf65a488f5a4c452b0b4989b7f84b/FN086_AScarepro730456.rar.html

Naposledy upravil
draha
dne 18 srp 2014, 20:43, celkově upraveno 1
Důvod:
vymazány mrtvé linky